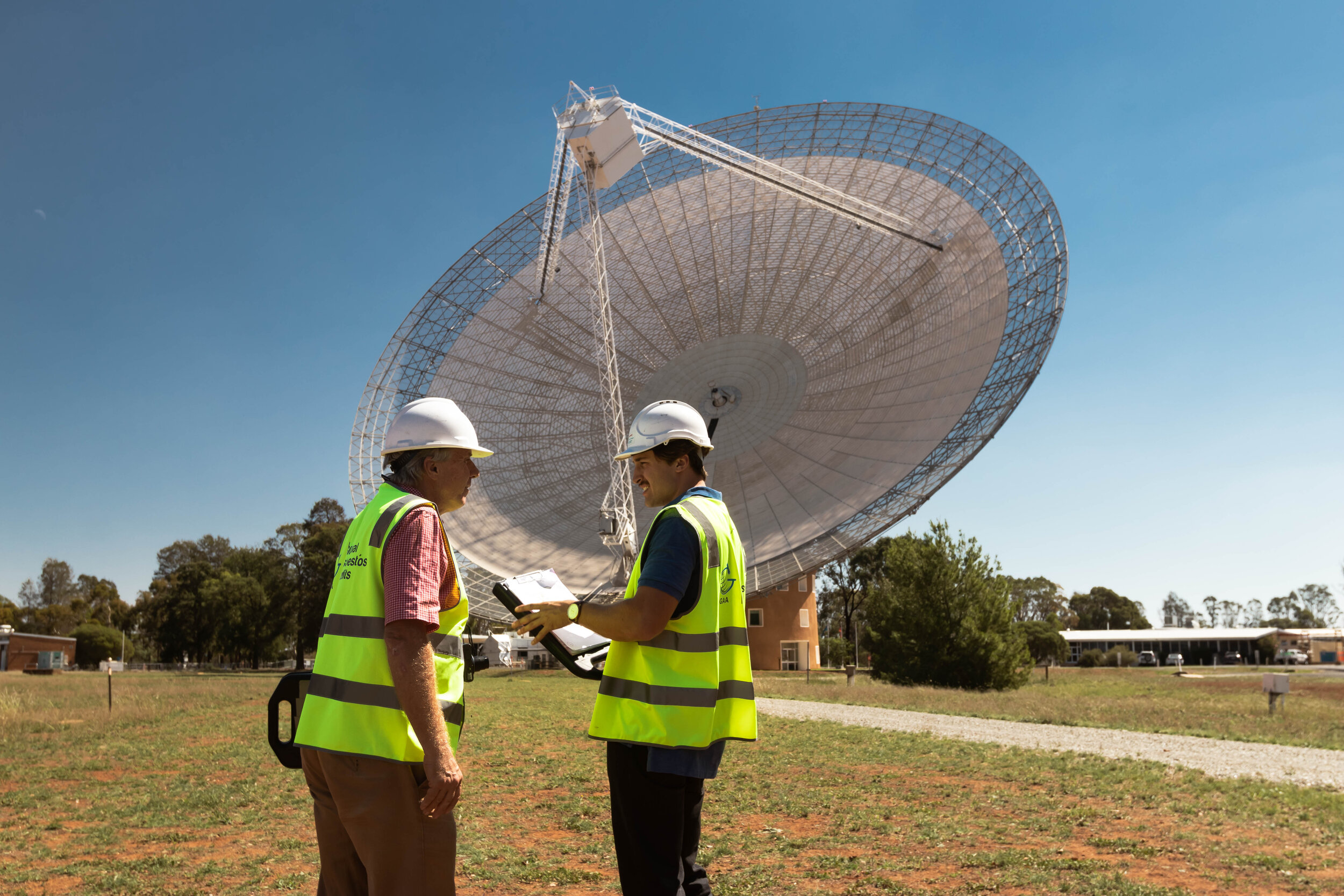 Asbestos Audits
Tier 1 Reporting System
In Australia, a Person in Control of a Business or Undertaking (PCBU) must identify and manage asbestos in workplaces. The location, type, and condition of any Asbestos Containing Materials (ACM) and their potential risks must be identified and reported by a Licenced Asbestos Assessor.
At Global Asbestos Audits, we have been conducting asbestos inspections for over 20 years. Our qualified asbestos assessors operate throughout Australia, providing comprehensive award-winning reports with our FMS1 reporting system.
The Asbestos Report
Our asbestos report is comprised of numerous sections. Each is designed with unique formatting to work independently from the other as a mechanised resource to identify critical components quickly and easily. By displaying relevant information in each section, our report enables the PCBU to understand and work through their duties effectively.
The colour-coding system is a cognitive de-loading tool used throughout the asbestos report providing a welcomed user-friendly platform when navigating Health and Safety at Work regulation compliance.
The Summary
This section of the report summarises all areas of asbestos at the site and their correlated health & safety compliance priority rating. PCBUs can use this to quickly locate asbestos issues on a macro scale without needing lots of information.
Our priority colour coding mechanism was inspired by its use in modern F1 race cars to provide quick, simplified data, reducing cognitive load and increasing efficiency and speed. No other report on the market removes the need to sieve through information to decipher asbestos risk assessments and understand their legal obligations.
We can provide multi-site summary reports to make quick evaluations on a large scale. Councils and property agents who manage asbestos risks across different locations especially favour our multi-site summaries.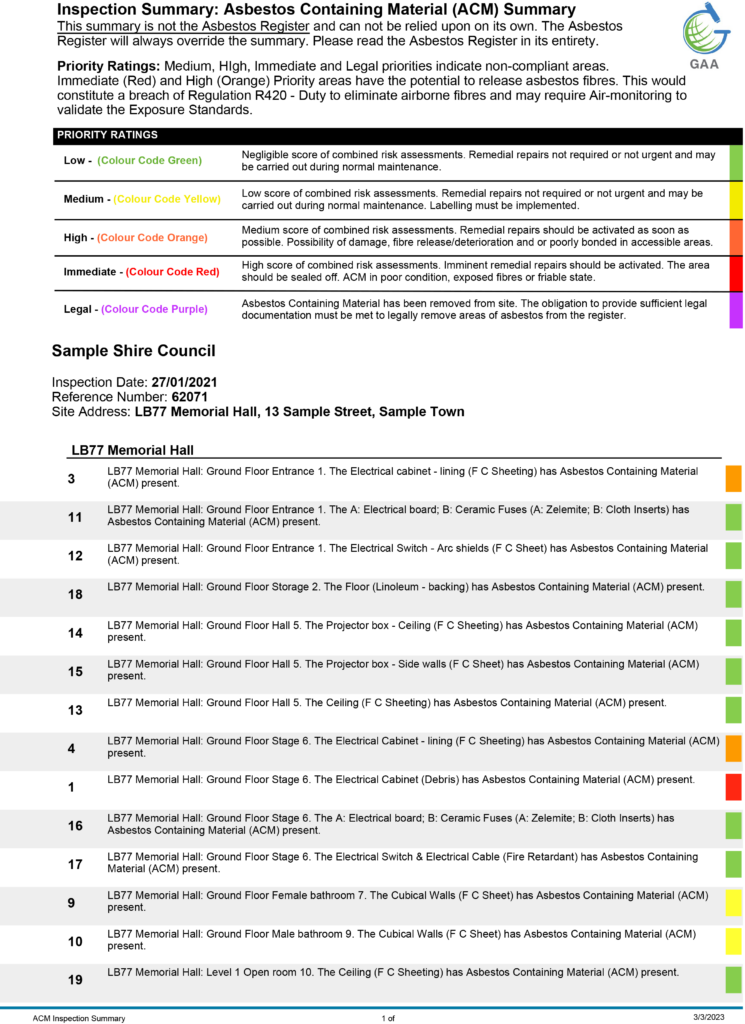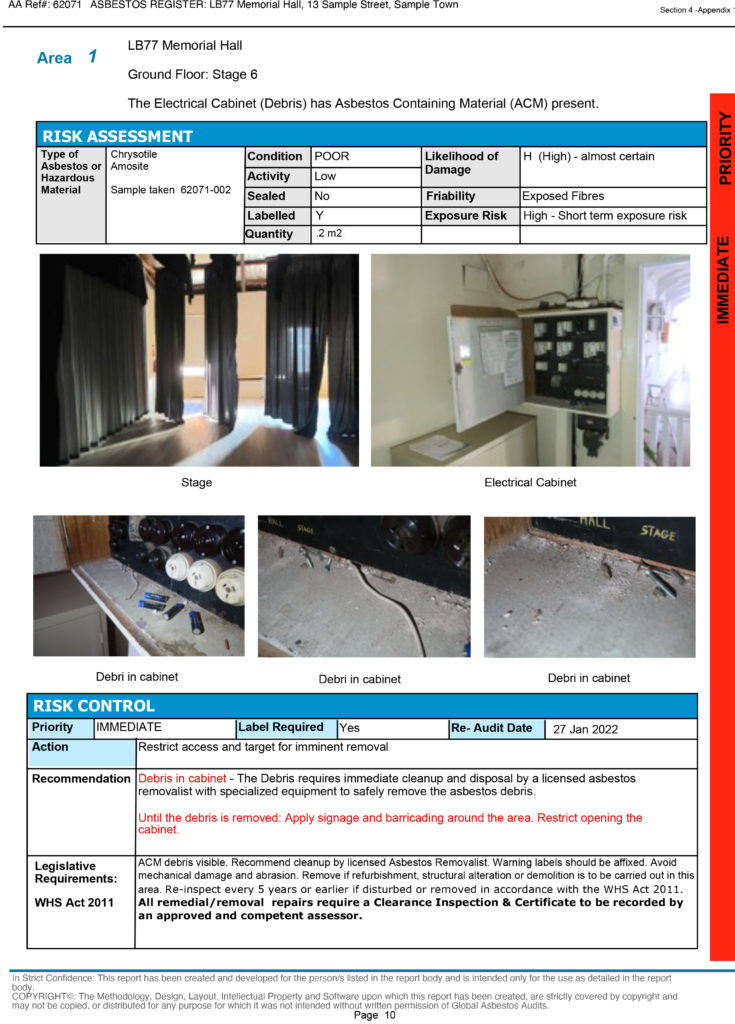 Asbestos Register
The asbestos register is one of the essential documents needed on site. The register must be a practical tool everyone can use to identify asbestos hazards.
We incorporate five photos for each area of asbestos to illustrate the location and condition of ACM and assist with in-field identification. These photos are devoted to the body of our register, not as a referenced attachment in the back.
The constraints of standard report formats only allow for encoded risk assessments and references to supplementary information. These are hard to use and induce too much room for human error.
We remove this common problem by including everything you need to know from an asbestos register all on the same page.
The Asbestos Survey
Asbestos documentation must be kept and relied upon for 30 years. The asbestos register needs to be a workplace tool and a legally dependable recourse now and into the future.
This section provides longevity to the asbestos assessment and reports by documenting all areas inspected, reflecting site findings of areas with Asbestos Containing Material (ACM) and No Asbestos Containing Material (NAD).
The Survey is the backbone of quality assurance, instilling trust in our report by validating the reporting process and providing confidence to our clients and the regulator.
A fully documented asbestos survey eliminates any hold-ups during construction work by answering the common question, "was this area inspected?" Settling ambiguity before it arises during construction works or potential legal recourse.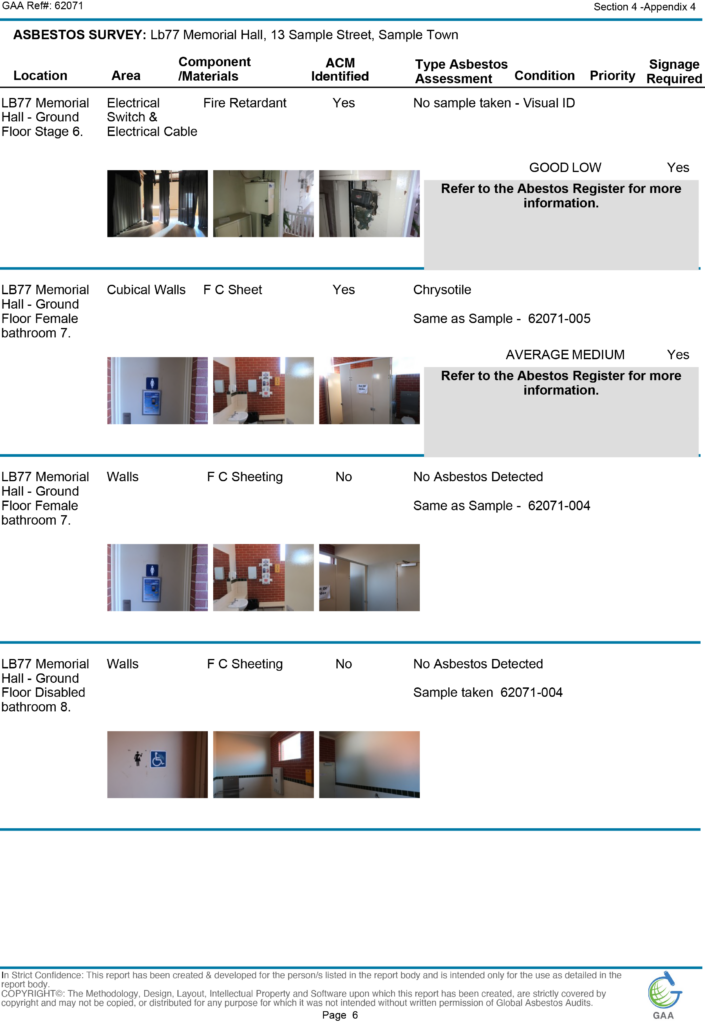 The Management Plan
An Asbestos Management Plan (AMP) is only required if asbestos is present at the site. If this is the case, then it is the legal responsibility of a PCBU to record how they intend to manage asbestos-related risks.
It is only a minimum requirement for licenced asbestos assessors to provide you with a generic asbestos management plan containing information assimilated from the regulation, giving PCBUs the tools but not a finished product. A compliant AMP must outline the specific management strategies for each extent of asbestos.
The best way to do this is with a site-specific asbestos management plan. We provide our clients with site-specific management plans to completely fulfil their asbestos management plan duties.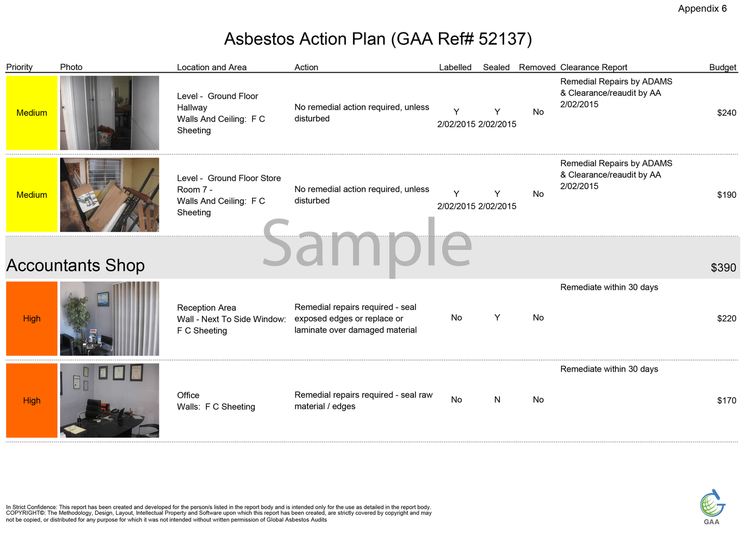 The Action Plan
In the asbestos management plan, a PCBU must appropriately record how they intend to deal with asbestos-related risks in the workplace. They must demonstrate a plan of action which includes a budgeted response.
The Action Plan is one of the most important documents you will apply when managing asbestos risks. From here, you can quickly formulate a plan of action to mitigate and manage asbestos risks.
This section of the asbestos management plan sets our report apart from our competitors. We provide our clients with a complete asbestos health, safety, and compliance solution by providing site-specific information tailored to your compliance duties rather than just the generic jargon.
Reporting Process
STEP 1
Site Visit
One of our Licenced Asbestos Assessors (LAA) will visually inspect the entire workplace recording.
They will identify Asbestos Containing Materials (ACM), assess the condition, and formulate a qualitative risk assessment.
Suspect materials are sampled for later analysis in the laboratory.
STEP 2
Laboratory
Some materials require further analysis to determine their presents of asbestos.
Our samples are analysed in a NATA -accredited laboratory using polarised light microscopy, including dispersion staining.
The laboratory technician will identify the type of asbestos and the presence of Organic and Synthetic Mineral Fibres.
STEP 3
Report
Using our FMS1 reporting system, we produce an extensive report based on the site evaluation and laboratory results.
The asbestos report comprises numerous, easily digestible sections to fast-track and simplify things.
Each area of ACM has a dedicated page with supporting photos, sample results, actionable recommendations, legislative requirements and colour-coded priority ratings, all housed in one place.
STEP 4
Management Plan
Using the data in the asbestos register, we put together a site-specific management plan tailored to your compliance needs.
Our management system features a document control platform. Allowing for uploading asbestos documentation, such as clearance certificates, which will automatically be recorded in the asbestos management plan.
This service will be available for all ongoing future asbestos-related documentation.
STEP 5
Quality Checks
Our software has built-in quality checks, ensuring the production and release of reports don't happen until quality parameters are met.
Following GAA's stringent quality control procedures, the assessor will perform an initial review using programmed quality tools built into the system.
After the initial review is complete, it will be assigned to one of our senior hygienists for approval. The system will only allow the report to be released after passing quality checks.