An asbestos inspection is essential to determine the presence of asbestos materials, manage the associated risks in your workplace, and stay compliant with strict regulations in Australia.
Asbestos inspection near me can be an applicable search term for those who need an asbestos inspection conducted on their property. However, it's crucial to ensure that the asbestos inspector you hire is licensed and certified to carry out the inspection and possesses the resources and reporting capabilities to help protect your business operations and safeguard against litigation.
Ultimately, it's the responsibility of the PCBU to ensure that the report is adequate and to know their legal duties. However, most PCBUs don't have the time to decipher through the regulations or the tool kit to depict what is relevant to their circumstances, nor the practical outlook to apply approved industry methods to solve these health safety and compliance issues. Picking any asbestos assessor from an 'asbestos inspections near me' search can be more costly in the long run.
Protecting business operations
One of the most common immediate consequences we see from the regulator is the issuing of prohibition notices. This generally means that no one can access the area until the items listed in a prohibition notice have been rectified and updated in the asbestos register and management plan.
This often means shutting down operations which can be significant, both in terms of lost revenue and the expenses associated with getting back up and running. In addition to lost revenue, there may be additional costs associated with paying staff for time off work or paying for temporary storage or alternative premises. This can majorly impact the bottom line, particularly for small businesses that may not have significant reserves to fall back on.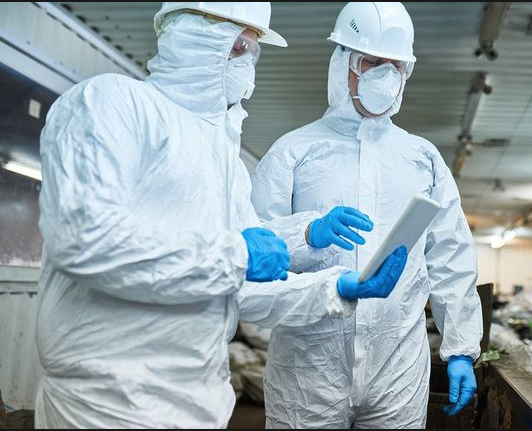 Perhaps less tangible but no less critical is the impact on customer relationships and brand reputation. When a business is unable to operate, it can be challenging to maintain customer loyalty and trust. Customers may turn to competitors during the remediation, and it can take significant effort to win them back once the prohibition notice is lifted.
Prohibition notices are generally issued for non-compliant areas hazardous to staff and public health and safety. Few reports will provide you with actionable information to prevent these closures should a Worksafe officer visit your premises; this is why only searching for 'asbestos inspection near me' rather than a reputable company specialising in asbestos registers and management plans who services all of Australia can be damaging to the health and image of your business.
Safeguard against litigation
The importance of going beyond the simple search of 'asbestos inspections near me' cannot be stressed enough regarding the legal side of things. Many PCBUs think they fulfil all their asbestos compliance duties by engaging any asbestos assessor to produce an asbestos register and management plan. Most of the people are unaware of the plethora of asbestos duties required of them, and most reports don't stipulate or provide any guidance on these matters, which can have detrimental implications.
Due to the latency of asbestos-related diseases, litigation may not come knocking until you're well in retirement. Just about all states and territories in Australia impose an industrial manslaughter charge as well as a penalty system (see below).
WHS Penalty System
WHS Penalty Category
Type of Alleged Failure
Maximum Potential Penalty
Category 1
Failure to comply with a health and safety duty that causes the death of or serious harm to an individual.
For an individual:5 years imprisonment and a fine of up to $680, 000
For a body corporate: A fine of up to $3,500,000
Category 2
Failure to comply with a health and safety duty that exposes an individual to a risk of death or of injury or harm to the individual's health.
For an individual:A fine of up to $350,000
For a body corporate: A fine of up to $1,800,000
Category 3
Failure to comply with a health and safety duty.
For an individual:A fine of up to $120,000
For a body corporate: A fine of up to $570,000
Asbestos documentation reflects how you managed asbestos-related risk during your time of management and must be kept and relied upon for 30 years. It is essential to show a proactive approach towards compliance. Demonstrating that so far as is reasonably practicable, you ensured the health and safety of workers and others. Finding the proper guidance towards this goal shouldn't be left to the asbestos inspections near me search.
What to look out for
Only searching for 'asbestos inspection near me' is a lack of proper due diligence. Today's workplace regulation climate demands a more nuanced approach. Ensure you understand not just whom you're engaging. What kind of report they're going to produce and what kind of mission statement grounds the service they provide.
Look for Australia-wide companies that go beyond the norm and provide a comprehensive product for health safety and full compliance. The best asbestos reports are easy to use, with many photographs and contain management and legal recommendations.
If they don't display some of the contents of their report on their website, there is probably a good reason for it. Ask for a copy of the company's sample (example) report and see what they can provide. Compare the comprehensiveness of reporting with other sample reports. If there is any need for clarification, ask to speak to one of the company's assessors so you can make a well-informed decision.